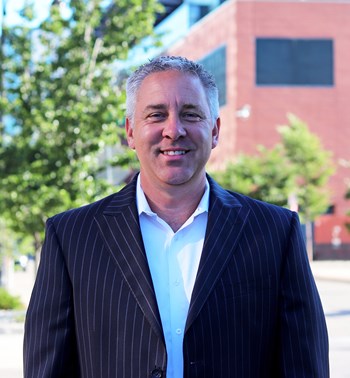 Background & Experience
Jason Makowski joined NAI Wisinski of West Michigan in 2004. Prior to NAI, Jason spent nine years working for United Parcel Service (UPS) where he held several different positions with the most recent being that of Finance/Accounting Supervisor. He uses his financial knowledge and experience and applies it to the world of real estate. He enjoys having the ability to work with people and numbers which are both relevant to real estate. Jason specializes in the sale and lease of office properties.
Jason always had an extensive interest in real estate because it is a dynamic business and every deal is different. He has the opportunity to meet a lot of people on a daily basis and helps them make smart real estate decisions. He believes that in order to be successful in the world of commercial real estate one needs to be patient, friendly and have the ability to put a client's objectives above your own. Working at NAI Wisinski is enjoyable for Jason both from a partner and agent perspective because of the core group of people he works with everyday.
Education
Grand Valley State University, Allendale, MI Bachelor of Business Administration - Finance
HONORS & AWARDS:
Leadership School -UPS
CoStar Power Broker
Realtor of the Year in 2019
Professional Associations & Designations
Commercial Alliance of Realtors (CAR) - Current Board Member - Served as CAR's President in 2019, Served as CAR's President-elect in 2018, Served as CAR's Treasurer in 2016 & 2018, Former Forms Committee Member, Former Membership Committee Vice Chair, Former Political Affairs Committee Vice Chair
Michigan Association of Realtors (MAR) - Served on MAR's Public Policy Committee
National Association of Realtors (NAR) - Served on NAR's Public Policy Committee in 2019 & 2020
Commercial Industrial Regional Real Estate Information Exchange (CIRRIX)
COMMUNITY INVOLVEMENT:
Dorr Rec. - Basketball Coach
Voice of Hope Church - Member of Leadership Team, Elder
Kids Hope USA - Mentor at Risk Children
AYSQ - Soccer Coach
Strategic Clients
Arctuition LLC
Adventure Credit Union
Siegfried Crandall
Wierenga Asset Management
Third Coast Development
Willison Hellman, PC
The Understanding Group
Sustainable Research
PGL Tansport
TBD Solutions
MB Real Estate
Timothy Tabolic, MD
Intertek Testing Services
Equity
Dr. Clore
Northern A-1 Services
Begole Family LLC
SDI Clarity
Smith Haughey Rice & Roegge
EM Services LLC
Worsford Macfarlane McDonald
Vulcraft
Certedrive Corp.
Dr. Albeiruit
Parchment Associates
One Touch HCM
Grand Valley Medical Specialists
Urology Associates